I have been waiting to post till I had more info from my drs and I also wanted to add some pictures since the last few posts have just been long posts about me.  With all the hectic holiday-ness, I just got around to editing some photos the other day.  These are for my mom who doesn't have a computer.  Every now and then I will sit down and get a bunch ready to print off and mail to her - honestly who does that anymore :)  LOL  Gotta love technology!  
Some of these Zac posted on his blog already - He loves sharing pix of the men so when he got some new ones, he couldn't help but show them off even though, they were suppose to be our christmas pictures  (Oh yeah) That okay, since he put them out there before I had a chance to do cards with them, I got him to take some more.  Last night we braved the cold and walked all the way across the street and were able to get some more - which turned out even better than the first set so,  "THOSE" will be our Christmas - or probably at this point New Year cards.  Stay tuned for those to come soon!
This is one of my favorite photos of the men and I :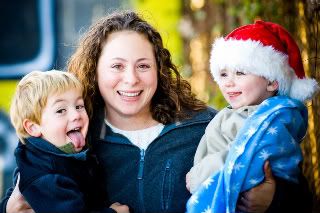 Gryphyn - YES he is pretty much wild and crazy all the time :)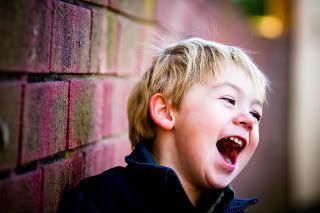 Vahn- aka : Mr Smalls -  
As for me,
I am doing good - I'm up and around and my friends i've seen say that I look great! This past monday, I went to a prosthetic place and got a camisole type shirt with a pocket that you can "stuff" to look like a breast. It makes me look more balanced which is nice. It also has a place to hold my drain tubes - so it is much more comfortable to wear. The drains are actually the most annoying and painful part - they go under the skin and are stitched in place. They are starting to get scabs around them and hurt if they get moved at all. I can't wait to get them taken out. As far as other pain, I am down to 2 pain pills a day. I hurt the most when I wake up - I think from not moving all night and again before bed. During the day it isn't too bad if I don't try to do too much and the men don't crawl all over me. Other wise It sort of feels more like sore muscles during the day which isn't too bad.
> 
> I am still waiting to hear back about the test results for staging and further treatment. I have a follow up appt tomorrow the 23rd so I should know more then. I meet with the main surgeon Dr Lee -who has been there for all my procedures but I never met - actually he came to see me this time when I was in recovery. I'm not sure I will know anything yet about if I have to do chemo or not since I was told that oncology will make that call but they will tell me the results of the test to see if it has spread to the lymph nodes.   So more updates tomorrow or the next day when I know more.