March 2nd - Day 60
Gryphyn loves to crawl into bed with Daddy and cuddle up in the mornings.
MANism#03022010
Gryphyn: "Mom I invited all of my friends at school to my birthday- except for one friend who always has boogies in his nose - he's not my friend"
MANism#03022010-2
Gryphyn's class at school tried to "grow" seeds but very few of them turned out. When Papa picked him up today he told him that they could go buy some seeds and grow some flowers in the backyard. He has been asking about it all day and just overheard him asked Zac where to get seeds - Zac told him "maybe at a nursery"
G ~ " Do they have them at the nursery at church?"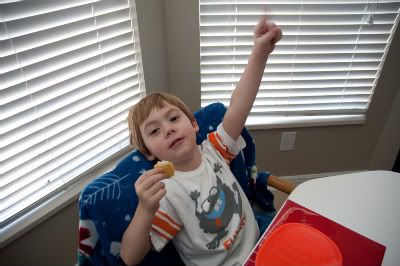 March 3rd - Day 61
I was trying to take a picture of Gryphyn eating chicken nuggets - because they are a staple at our house - but G wasn't too pleased with me taking his picture. In this photo, he is pointing to the ceiling and told me "You go to time out on the ceiling for taking my picture"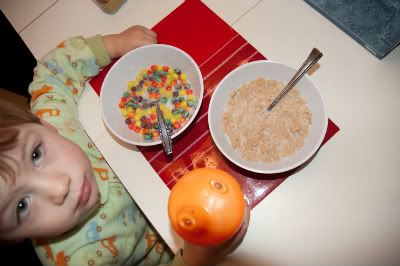 March 4th - Day 62
Breakfast - "bunny cereal" (Twix) for Vahn and Cheerios for mommy!
March 5th - Day 63
Diaper Bears that I made for a friends baby shower who is having twins.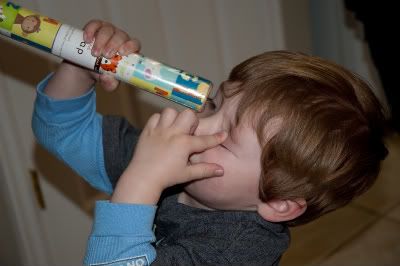 Runner up 63b
Vahn looking through his "telescope" - I love how he holds one eyes shut with is finger to do it.
MANism#03052010
We were down stairs and Gryphyn said:
"Its evil cold down here mom"
M ~ "Is that like wicked cold"
G ~ "Yeah, wicked cold"
M ~ "What's that mean?"
G ""Oh, it means something that is very cold"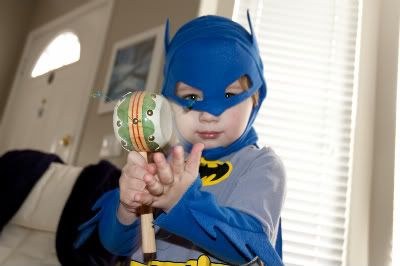 March 6th - Day 64
"Batman" playing the drum.
MANism#03062010
I ordered a sample pack of the new "sponge bob" maple and brown sugar cream of wheat for Gryphyn. He was super excited to open it and make it. I made him wait until breakfast this morning - so he takes his first bite and looks at me with a strange look on his face.
M ~ "what's wrong?"
G ~ "it feels funny"
M ~ "You don't have to like it"
G ~ Quite relieved "I don't like it - it feels funny and its warm and sweet and I don't like things that are warm and sweet and feel funny"
MANism#03062010-2
Gryphyn told Nana:
"Nana when I get bigger I'm going to take you somewhere and help you cross the street!"
March 7th - Day 65
Zac's first time in the Mac Store!
Runner-up 65b
Vahn eating his ice cream cone while we wait for our appt at the Mac genius bar!
MANism#03072010
Nana told me:
G was watching V play a computer game. As the music started playing G said "Do that one! Do that one!"
V replied "I'm thinking of it."
MANism#03072010-2
G~ " Daddy, can you build me a big scary house?"
Z ~ " A big SCARY house?"
G~ " Yeah, to scare away my hiccups!"
MANism#03072010-3
A few minutes later, Vahn got hiccups and told me:
V~ "Daddy make me scary house to scare away my pickups"
March 8th - Day 66
I laughed when I saw Zac's empty beer bottle on the bathroom sink with the Mens' toothbrushes!
MANism#03082010
I was looking in the hall closet for more hand soap and only saw one that I didn't like. When I started closing the door again Gryphyn said:
G~ "What about that one? It's soap"
M~ Yeah, I don't like it though, its too strong"
G~ as he is flexing his muscles "I like it, cuz its strong like me"
MANism#03082010-2
G got a spoon to eat his yogurt with and while playing with it said:
"I can see myself and I look lovely"
MANism#03082010-3
Gryphyn had been burping loudly all day after his bath, he burped again, and upon my "mom" look he said:
"Excuse me, ......... Delicious!"