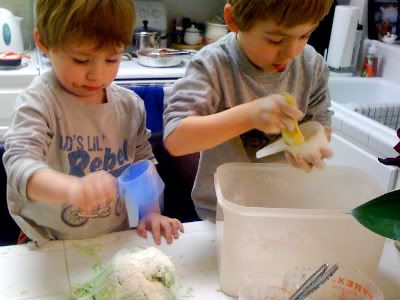 Feb 23rd - Day 53
The Men making play-doh
MANism#02232010
I was putting laundry away and Gryphyn came in and got a new pair of pants.
I asked him why he was getting new ones and he said:
"Cuz I peed for just 2 minutes in mine"
MANism#02232010-2
Vahn asked Nana for a fruit bar and she asked him "What did mommy say?"
To which he replied "I'm asking YOU!"
Feb 24th - Day 54
Gas light is on AGAIN - sigh!
MANism#02242010
We were driving home and passed the crossing guard at the school - He has a long white beard - Vahn pointed out the window and kept saying "Santa Santa!"
MANism#02242010-2
"Momma - have you rode on a flying rug before?"
Gryphyn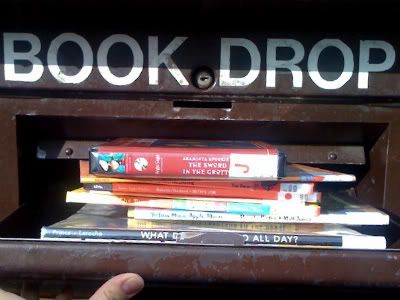 Feb 25th - Day 55
Returning Library books!
MANism#02252010
Vahn and I were playing the I love you - NO I love you game.
M ~"I love you"
V~ "NO, I love you"
M ~ "No "I" love YOU"
V ~ "I love your FIRST!"
Feb 26th - Day 56
Gryphyn wanted to help me mop the floor :)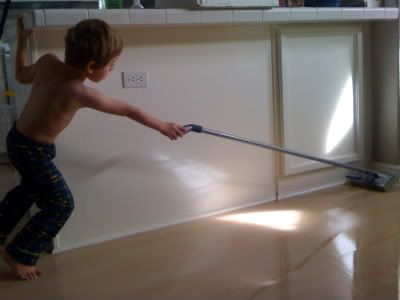 Runner up - 56b
Those corners are hard to reach :)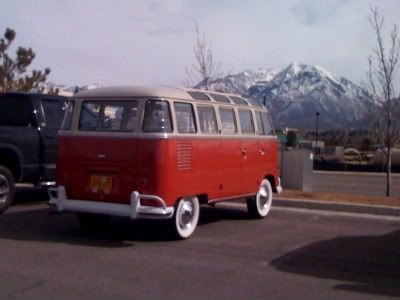 Feb 27th - Day 57
I saw this bus in the parking lot at the gym and took the pix to show Zac
- cuz he would have done the same thing :)
Actually, he would have gotten out of the car to check it out - I only circled back around to get a quick shot!
MANism#02272010
I was putting Vahn to bed and while praying with him, he started naming random names to pray for. He told me my name was Johnny! So I asked him what my name was and ended up going thru the list of ever ones names. When we got to him, I asked him what HIS name was and he said "Vahn Valor" "Vahn Valor what?" "HAPPY - Vahn Valor Happy!"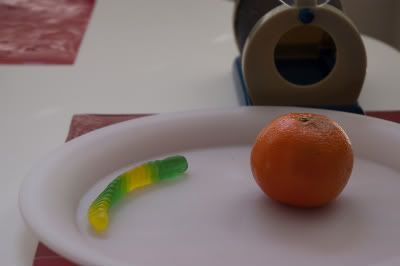 Feb 28th - Day 58
Gryphyn kept his gummy worm from dinner the night before, and named him Sherman. He put him in a cage as his "pet"
The next morning, he took him out of his cage and gave him an orange for breakfast.
March 1st - Day 59
When Vahn is suppose to be sleeping and I go in to check on him, he squeezes his eyes shut like this so I think he is asleep!