This past week, everyone has been sick - it was NOT a fun week.
I am so glad that everyone is feeling better now!
Most of the week was spent indoors in our pjs (as you will see in the photos)
MANism#01262010
I was combing the tangles out of Gryphyns hair and he said....
"Oww Oww - that's not very good Mom!"
MANism#01272010
Vahn was playing with Zac's phone and then we couldn't find it so Zac sent the men on a hunt for it saying "whoever finds it first gets a cookie" Well, I ended up being the first to find it which brought both Men to tears because they wanted to find it and get a cookie. So we gave everyone a cookie for their efforts. However G took one bite and said "mom can I save this for later" and V said "no thanks" HONESTLY! - You know your kids are sick when they turn down cookies!
MANism#01272010-2
G~ "Mom I want you to text Valerie"
M~ "You do? What do you want me to tell her?"
G~ "That I love you"
M~ "That you love ME or that you love HER?"
G~ "That I love her and I miss her"
Then I heard him go upstairs and tell Zac "Dad, I really miss Valerie" :(
MANism#01282010
G~ "Mom I went to the dream place last night"
M~ "You did?"
G~"uhh huu there were knights there"
MANism#01282010-2
I sat down on the couch and G's feet were in the way (so I sat on them) and G said...
"Move your butt mom!"
M~ Excuse me?
G~ "Can you please move mom"
MANism#01292010
Vahn brought me a Transformers book and wanted me to read it to him - Its really long and he loses interest in it so I told him NO. Which put us into this YES / NO argument.
V~ "please mommy i want you to read it"
M~ "too bad, I don't want to read it right now"
V~ "NOT too bad!"
MANism#01302010
Vahn would NOT be quiet. He kept yelling and being loud. After several times of telling him to use an inside voice, I picked him up and set him down out side the front door and closed the door. He stood there crying and rang the door bell - it was too funny!
MANism#01302010-2
Zac was playing with Gryphyn and threw him on the bed. G landed on a toy and got mad. He told Zac...
"You're being naughty Daddy!"
MANism#01302010-3
We were sitting in McDonalds eating and G was looking at the paintings on the wall - (they were of the original McD's characters) I asked him if he knew who the Fry Guys were and then made some comment to Zac about what is the world coming to? Kids don't even know who the Fry Guys are! To which G replied...
"Oh, I know who they are - they are like those things that roll around in the desert with cowboys and horses and cactus!"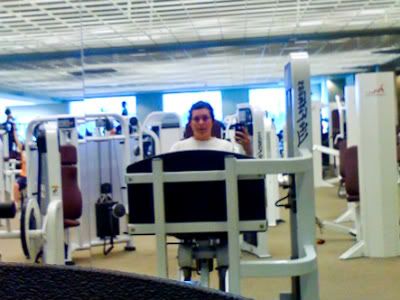 Jan 21st - Day 21
Me at the gym - I need a picture of the day and it was a good excuse to take a break :)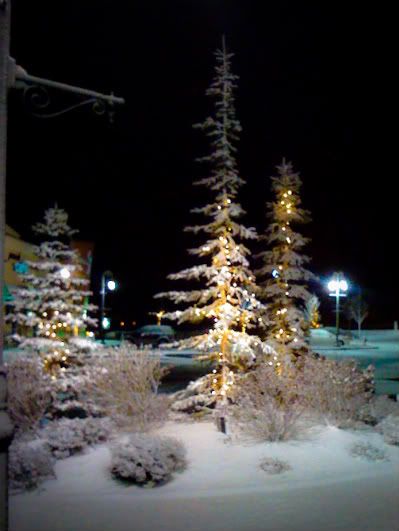 Jan 22nd - Day 22
We went to go see "The Tooth Fairy" and when we came out there was a snow everywhere - I tried to take a picture with my phone but it wouldn't focus very well - this is the best one I got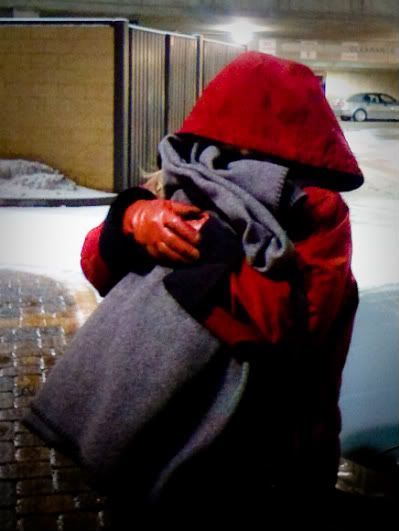 Runner Up - 22b
Mom trying to stay warm while I take pictures.
Jan 23rd - Day 23
Gryphyn standing by the door - I can't believe how BIG he looks in this photo - he sure isn't my little baby anymore :(
Runner up - 23b
I found this cool phone cover at Borders Book store - If it didn't cost $15 I would have bought it for my phone!
Jan 24th - Day 24
Poor little sick Vahn - he was watching tv when I snapped this photo.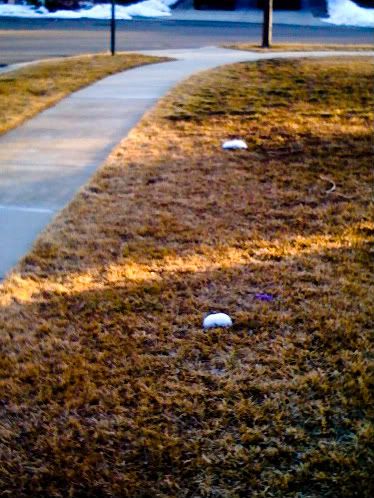 Runner Up - 24b
All that is left of our snowmen!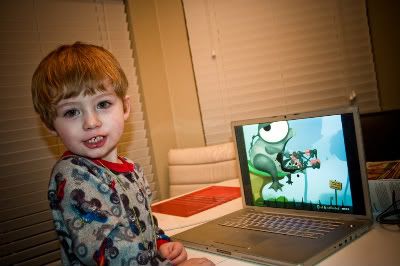 Jan 25th - Day 25
Vahn playing "World of Goo" on my laptop.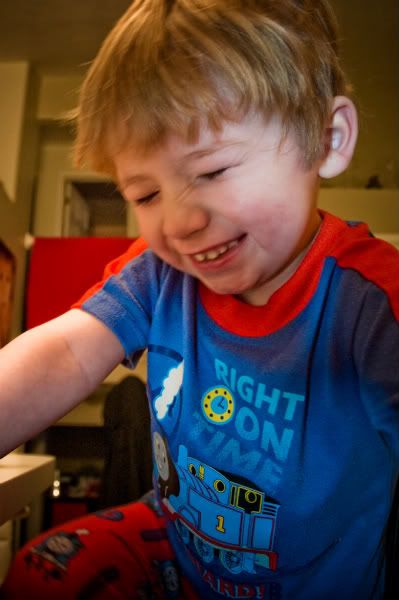 Jan 26th - Day 26
Vahn - "Don't take my picture mommy" - he is convinced that if he squeezes his eyes shut then I can't see him!
Jan 27th - Day 27
Gryphyn playing his new game I got him - After a week of being locked in the house, we were in desperate need of new games and puzzles so I picked up a few at a consignment store. They love this one with the rescue vehicles.
Jan 28th - Day 28
Crayons - oh what a mess they can make when they find their way on the table instead of the paper!
Jan 29th - Day 29
Me on my LAST day of HER2 treatment. Woo Hoo!
Mandy came to visit me and took this picture of me!
Jan 30th - Day 30
Zac and the Men playing at the park.
Jan 31st - Day 31
Early birthday celebration lunch for Zac at Red Lobster (Gryphyn took this photo)