After my last post,
New Years Resolutions,
I took my whole list of words, cut it up in little strips, folded up the little slips of paper and put them all in a hat. Then I closed my eyes and prayed that God would let me choose from the hat the ONE thing that I needed to focus on this coming year. I mixed them all up some more, then some more, and then even more--- slowly pulled one out and asked God to give me peace about what ever it was I was about to read on this paper!
I slowly open my eyes - (really nervous about what I was going to read)
Looking away, I slowly opened the paper.
Then stole a quick glance at the paper. That got my attention and I stared at the paper in disbelief!
WHAT - you have got to be kidding!
Me..... PATIENCE - Really?
"I" need to work on Patience??????
I consider myself to be a VERY patience person - its usually the one word that I use to describe myself!
I almost didn't even put it in the mix.
I was about to throw it away and pick again but then I started thinking about the past year all the challenges and all the unresolved issues I still am facing now.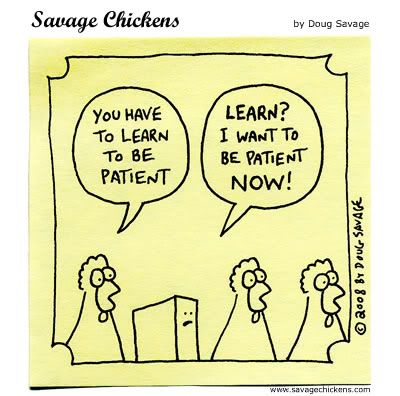 I must admit - I am tired of not having any answers. Of waiting for things to happen. I want to go out and MAKE things happen - but my attempts have all failed.
So very much so, God is telling me to be PATIENT!
His ways are not our own and His timing is not our timing.
It has been a few days now since I opened that slip of paper. The shock has worn off and I am actually excited to see what God has planned for me in 2010.
I have a new peace about being Patient and waiting on God's timing on all my big questions. Okay I do Still want to have all the answers right now. But i'm okay with waiting.
Isaiah 40:31
But those who wait on the LORD shall renew their strength; They shall mount up with wings like eagles, They shall run and not be weary, They shall walk and not faint.